Europe's industrial leaders look to post-COVID economy with surging confidence and a watchful eye on trade risks
BRUSSELS, 19 MAY 2021: A new report released today reveals significant optimism among the CEOs and Chairs in Europe, for the economic and business outlook, while also flagging some potential risks on the horizon.
The Conference Board Measure of CEO Confidence™ for Europe polls corporate leaders in the European Round Table for Industry (ERT) – the CEOs and Chairs of some of the most recognisable European industrial and technology companies with operations worldwide. This latest edition of the semi-annual survey gauged sentiment among the Members of ERT on a range of topics, including economic outlook, COVID vaccination efforts, international trade and business evolution.
Confidence returns
The results of the latest survey, conducted in April, show economic confidence stands at 77 for the first half of 2021 (H1 2021) – up from 61 in H2 2020, and just 34 in H1 2020, the nadir of the pandemic exactly one year ago. (A score above 50 points reflects more positive than negative responses.)
More than 4 in 5 respondents (83%) report that the economy is doing moderately or substantially better in the first half of 2021 compared to six months ago. Looking ahead, expectations for the economy are even stronger.
Optimism for most sectors
Within their industries, nearly 75% of ERT Members expect business conditions to improve over the next six months. Just 4% expect conditions to deteriorate within their own industries, while 22% anticipate no change.
Countering the info-demic & advancing vaccination
Against a backdrop of multi-speed vaccination rollouts and anti-vaccine disinformation fuelling resistance to vaccination, there is strong support for promoting vaccination to employees. Companies led by 84% of CEOs and Chairs are actively supporting the effort with pro-vaccine information campaigns. In addition, 47% of respondents are also offering vaccination to employees onsite.
Trade disruption & supply shortages are concerns for the next six months
While the economic outlook is positive, trade disruptions and supply shortages are major concerns over the next six months as the recovery takes hold and demand rebounds. The top concerns in order of ranking are as follows:
Shortage of supplies will be highly disruptive in certain industries. 40% of respondents rate global shortages of key production inputs – including computer chips and rare earth materials – as highly disruptive (4 or 5) on a scale from 1 (not at all disruptive) to 5. However, 40% also rate supply shortages as a 1 or 2, suggesting these concerns are concentrated in specific manufacturing sectors.
Trade tensions remain high on the radar. Overall, trade was ranked as the second most disruptive concern, with US-China tensions remaining high amid new calls to nationalise strategic supply chains in the wake of COVID-19. EU-China relations, which appeared to be trending upwards with December's agreement on a comprehensive investment deal are now less certain amid recent tit-for-tat sanctions.
Transport disruptions hit some companies hard. Around one-third (32%) of respondents are highly concerned about limited transport capacity over the next 6 months, while another 23% also fear rising costs.
These various implications of the pandemic and its aftermath have prompted companies to rethink their supply chains. 64% of respondents are actively reorganising supply chains in light of lessons learned through lockdowns, import restrictions and ongoing trade and transport difficulties.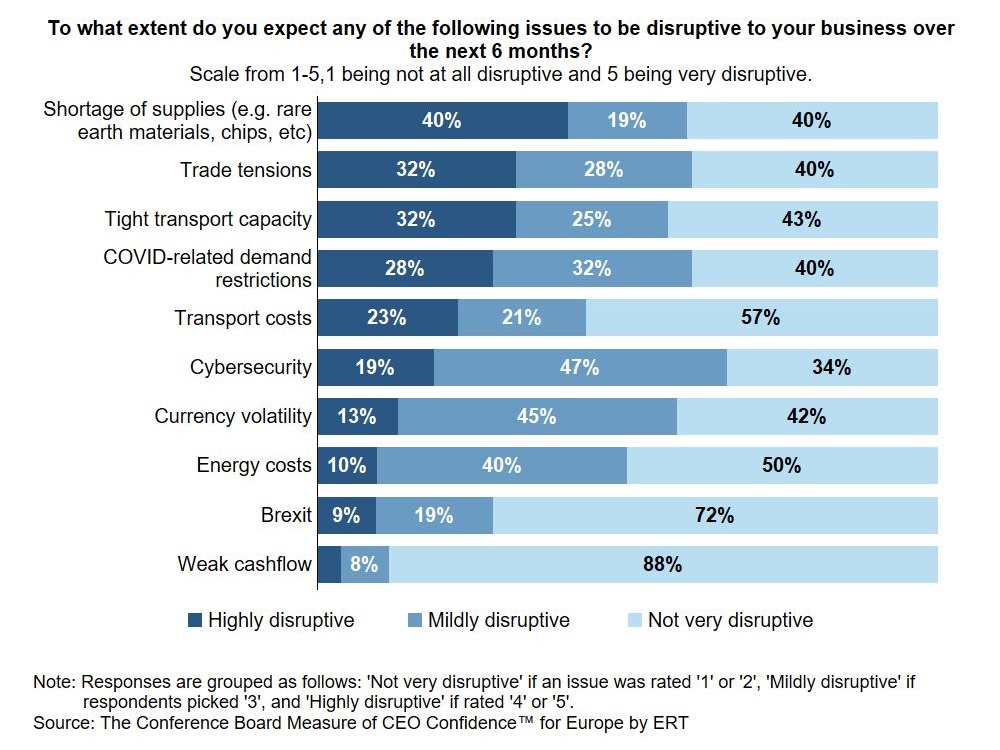 More Momentum for Digital Transformation
CEOs and Chairs expect to accelerate many realms of digital transformation over the next six months, pointing to an emerging long-term vision of the future of work.
New skills and new people. 53% of companies are planning on hiring new permanent talent over the next six months while the vast majority (71%) are eschewing continent workforces. More than 2 in 3 (67%) respondents are working on training programs to advance the skills of existing employees.
The split between virtual and onsite work remains to be negotiated. A majority of companies (59%) have completed their adoption of new tools for working remotely and another 35% plan to do so over the next six months. However, 58% report they are still in the process of defining how their workforce will be divided between remote and onsite employees.
Focus on new tech and partnerships. Most companies have ongoing and planned digital transformation initiatives in a variety of areas including: data analytics, new software and machinery, new digital tools for supply chain management, and partnerships with start-ups and universities.
Mirrored Sentiments Stateside
"Europe's sky-high confidence matches the latest readings from our Measure of CEO Confidence™ for the US," said Dana Peterson, Chief Economist of The Conference Board. "On both sides of the Atlantic, executives are now in the position to look past the immediate crisis and turn to building more resilient supply chains, navigating a changing trade environment, and leveraging digital transformation to drive gains among employees and consumers alike."
To download the full survey results, click here. The next survey will be carried out in Q4.
ENDS
About The Conference Board
The Conference Board is the member-driven think tank that delivers trusted insights for what's ahead. Founded in 1916, we are a non-partisan, not-for-profit entity holding 501 (c) (3) tax-exempt status in the United States.
"Europe's CEOs & Chairs see the light at the end of the tunnel and are preparing to compete in a post-pandemic world. As the vaccination dynamic is picking up, business leaders will be applying the many lessons learned through COVID-19 with growing confidence in the months ahead."
"While there is the promise of rapid recovery, we should not underestimate the risks. The COVID pandemic will have complex implications on business operations and consumer behaviour for the long term. The immediate year ahead will reveal much of the shape of what we hope will be a post-COVID business landscape. One thing is certain – competitiveness and resilience will remain key themes for the EU, as recoveries gather pace in China, the US and elsewhere."