ERT is a forum for CEOs and Chairs of leading companies of European parentage in the industrial and technological sector, who share the values of freedom, tolerance, equality and openness.
ERT Membership is individual, not corporate, and is by invitation only. Our Members are united by a vision for a strong, open and competitive Europe, as a driver for inclusive growth and sustainable prosperity.
We are committed to playing our part in strengthening Europe's place in the world.
Chair
Carl-Henric Svanberg
AB Volvo
Sweden
Carl-Henric Svanberg has been the chairman of AB Volvo, a leading global manufacturer of trucks and construction equipment, since 2012 and the chair of ERT since May 2018. He is also the chairman of The Royal Swedish Academy of Engineering Sciences, the world's oldest academy of engineering sciences.
Between 2010 and 2018, Carl-Henric Svanberg was the chairman of BP plc and led the board through the Deep Water Horizon incident, its aftermath and the company's recovery.
From 2003 to 2009, Carl-Henric Svanberg was the CEO of Ericsson. He joined in the middle of the telecom crisis when the company was forced to reduce its workforce from 107,000 to 47,000 employees, led the restructuring and a strong expansion of sales during seven years when 3G and early versions of 4G were rolled out.
Prior to this, Carl-Henric Svanberg was the CEO of Assa Abloy Group, a manufacturer of locks and door hardware. He  expanded the company from a small domestic player to a global leader through a successful global acquisition strategy.
Carl-Henric Svanberg began his career at ASEA (today ABB) and Securitas AB, latterly as the group's executive vice president.
Svanberg holds a Master of Science in Applied Physics from the Institute of Technology at Linköping University and a Bachelor of Science in Business Administration from Uppsala University. He holds honorary doctorates at Luleå University of Technology and Linköping University in Sweden and is the recipient of the King of Sweden's medal for his contribution to Swedish industry.
Carl-Henric lives in Sweden with his wife Louise and their six children.
Vice-Chair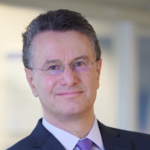 Dimitri Papalexopoulos
Titan Cement
Greece
Dimitri Papalexopoulos is Chairman of the Executive Committee of TITAN Cement Group, an international cement and building materials producer active for over 115-years. TITAN aspires to combine an entrepreneurial spirit and operating excellence with respect for people, society and the environment.
TITAN operates production facilities in 10 countries on four continents and is commercially active in many more. The Group seeks an active role in the commons, both on a local and a global scale. Among other collaborations, TITAN is an active member of the WBCSD, was the first company in Greece and among the first 500 global signatories of the United Nations Global Compact.
A firm believer in the European project, Dimitri Papalexopoulos serves as Vice-Chairman of the European Round Table of Industrialists (ERT) since November 2018 and is a member of its Steering Committee. At the same time, he is Vice-Chairman of the Board of the Hellenic Federation of Enterprises (SEV), and sits on the Board of the Foundation for Economic and Industrial Research (IOBE) and the Hellenic Foundation for European and Foreign Policy (ELIAMEP).
Prior to joining TITAN in 1989, he was a consultant for McKinsey & Company in New York and Munich.
Dimitri Papalexopoulos holds an MSc in Electrical Engineering from the Swiss Federal Institute of Technology (ETHZ-1985) and an MBA from Harvard Business School (1987), and speaks Greek, English, French and German.
He is married and has three children.
Jean-François van Boxmeer
HEINEKEN
The Netherlands
Jean-François van Boxmeer has been Chairman of the Executive Board and Chief Executive Officer of Heineken N.V. since 2005.
He joined the company in 1984 and, after three years as a trainee in production, sales and administration in Amsterdam, he moved to Africa. As Sales and Marketing Manager, first for Bralirwa in Rwanda and then Bralima in the Democratic Republic Congo (DRC), Jean-François van Boxmeer helped to build HEINEKEN's business in these two important markets. He was appointed General Manager of the DRC in 1993.
In 1996 he returned to Europe to become President & General Manager of Zywiec S.A. in Poland, and three years later was promoted to become Vice-President & General Manager of the newly formed Grupa Zywiec S.A, one of Poland's leading brewers. In 2000 he was appointed General Manager of Heineken Italia Spa. In 2001 he was promoted to the executive board, with worldwide responsibility for supply chain and technical services, as well as the operating businesses in North-West Europe, Sub- Saharan Africa and Central and Eastern Europe.
Since becoming Chairman of the Executive Board and Chief Executive Officer in 2005 Jean-François van Boxmeer has overseen a period of significant growth with the company consolidating its position as the most geographically diverse brewer in the world, the largest brewer in Europe and the third largest globally.
Jean-François van Boxmeer sits on the Board of Mondelez International (formerly Kraft Foods Inc.) as an Independent Director, a position which he has held since 2010, and is a member of the shareholders committee of Henkel AG & Co.KGaA.
He is Chairman of the board of directors of De Nationale Opera & Ballet, Amsterdam and a member of the board of the Institut Royal pour Sourds et Aveugles Foundation in Belgium.
Jean-François van Boxmeer studied at the Facultés Universitaires Notre Dame de la Paix S.J. in Namur (Belgium) and obtained his Masters degree in Economics in 1984.