Economic Confidence Survey – Autumn 2019
Economic confidence diminishing at Europe's largest businesses, with competitiveness a major concern
Economic confidence among Europe's largest industrial firms is falling amid geopolitical uncertainty and concern over the implications of international trade tensions – underlining the need for the new European Commission to take urgent action on competitiveness.
The fifth edition of the ERT Economic Confidence Survey, which polled 52 CEOs and Chairs of the European Round Table for Industry (ERT), still shows a positive outlook for business overall, but confidence among large industrial firms is lower than at any point since the six-monthly survey began in 2017.
The outlooks for both employment growth and business investment inside Europe are also more sluggish than they have been in previous editions of the survey, with only around
25 per cent of respondents expecting to increase investment inside Europe in the next
six months and less than half expecting to create more jobs.
Reacting to the findings of the survey, Dr Martin Brudermüller, Chairman of ERT's Competitiveness & Innovation Working Group and Chairman of the Board of Executive Directors of BASF said:
Key findings in the ERT Economic Confidence Survey include:
The general business outlook is on average slightly positive, with the lowest score since the survey began. Around a quarter of respondents are negative about their company's prospects
Across all three broad indicators – sales, investment and employment – respondents are more negative than at any time since the Economic Confidence Survey began in 2017. The skills shortage was mentioned as an explanation for the negative employment prospect in Europe.
The survey results come as ERT prepares to make further detailed recommendations on policy priorities for the new European Commission, in order to stimulate jobs and investment in Europe. Last month, ERT published Competing at Scale¹, with a range of recommendations aimed at delivering a smarter EU competition policy.
In December, ERT will publish its latest report benchmarking European performance against global competitors across a range of indicators. The report will be launched at the Scaling Up Europe event², organised with POLITICO on 9 December in Brussels.
In total 50 CEOs and Chairmen of Europe's leading industrial companies replied to the latest ERT Economic Confidence Survey.
The survey was conducted by the ZEW – Leibniz Centre for European Economic Research (ZEW).
Download the full results of the autumn 2019 survey and a detailed analytical report prepared by ZEW via the "Download" button on this page.
ERT Economic Confidence Index – General business outlook over time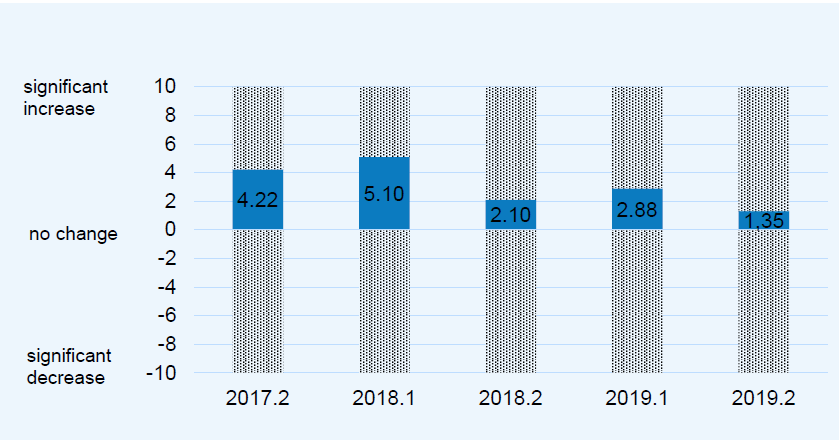 ERT Economic Confidence Survey – Development across all categories over time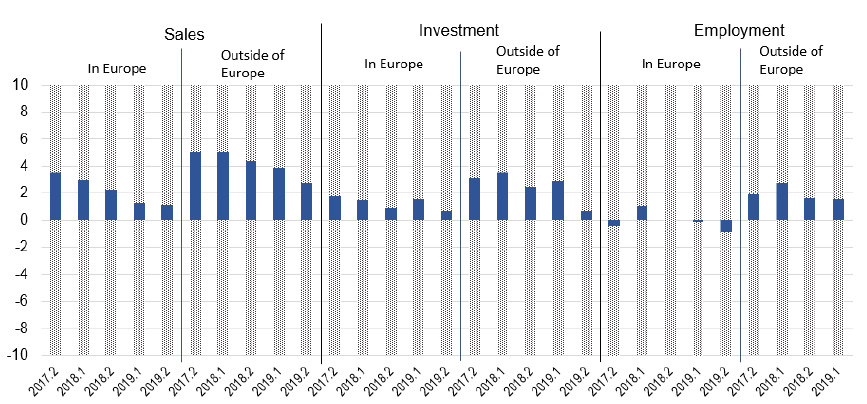 ERT Economic Confidence Survey – Investment expectations in Europe over time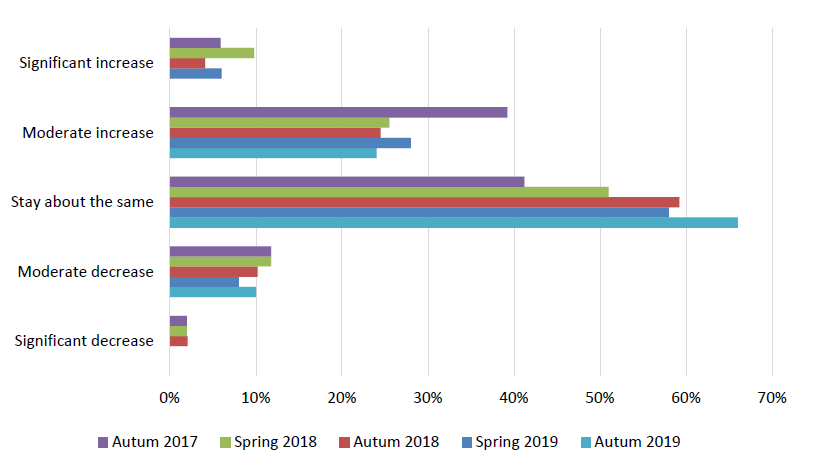 ERT Economic Confidence Survey – Employment expectations in Europe over time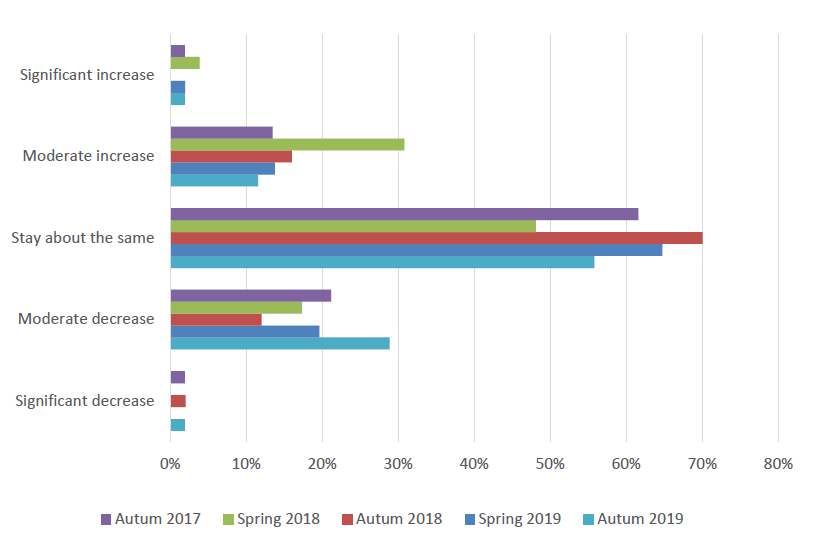 These results show that, while European industry's current outlook is broadly positive, there are real structural challenges inhibiting companies from investing, creating jobs and competing with the rest of the world.  With a new European Commission about to take office, the time is right for a new focus on improving our competitiveness by deepening the Single Market and prioritising innovation. These are key for Europe to succeed and lead in the digital and "green" transformation of our society. ERT and its Member companies will be doing their part to promote these ideas in the weeks and months ahead.