CEO confidence drops to an all-time low in H2 2022
Pessimism dominates, but European business leaders hold firm on green transition investments
Brussels, 23 November 2022: The results of a new survey released today reveal the latest sentiments for the economic and business outlook among European business leaders and reflect the challenges facing some of Europe's most significant companies.
The Conference Board Measure of CEO Confidence™ for Europe polls corporate leaders and Members of the European Round Table for Industry (ERT) – the CEOs and Chairs of some of the best known European industrial and technology companies with operations worldwide. This 11th edition of the semi-annual survey gauged sentiment among the Members of ERT on a range of topics, including economic outlook, investment, energy transition & climate targets and the business and geopolitical implications of the war in Ukraine. The survey was conducted during October.
Economic confidence in freefall in Europe. Less bleak in US & China
The Conference Board Measure of CEO Confidence™ for Europe by ERT plunges to 24 in the second half of 2022, down from 37 in the first half of 2022. The measure ranges from 0 to 100. A reading of less than 50 reflects more negative than positive responses. The current level of confidence is the lowest ever recorded since the creation of the measure in H1 2020 and below the level at the onset of the COVID-19 pandemic.
Double-digit inflation linked to record-high energy costs, has dented business confidence. The repercussions of the war in Ukraine have left an overwhelming majority of CEOs and Chairs in Europe feeling particularly pessimistic about the current economic outlook. Even more worryingly, almost 9 out of 10 respondents (87%) expect the economic outlook to worsen in the next six months. They are also markedly pessimistic about the short term prospects regarding their own industries, with 71% of CEOs expecting business conditions to worsen in their sector.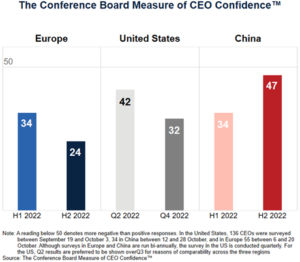 Across the Atlantic and beyond
In equivalent surveys of the US and China carried out by The Conference Board, US CEOs' confidence also fell to lows not seen since the 2007-2009 recession, from 42 to 32 compared to six months ago. In contrast, China-based CEOs of US and European multinational companies appeared less pessimistic about current and future economic conditions, with the overall measure of confidence in China rising from 34 in April to 47 now.
Among a number of other significant findings from the latest survey, ERT is highlighting the following three insights:
Energy costs are hammering industrial operations in Europe
22% of CEOs and Chairs in Europe do not envisage energy prices returning to 2019 levels before 2024, and another 22% do not see this happening in 2025 either. Notably, the relative majority of the remaining business leaders polled (38%) believe energy prices will never return to their 2019 rates – a finding that is consistent with the results of the last survey in H1 2022.
In view of high energy costs in Europe, 32% of leaders are temporarily ceasing or downsizing their operations in Europe, and 15% expect to do so on a permanent basis.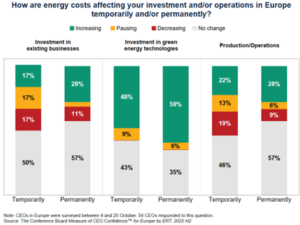 Persistently high energy costs put immense pressure on businesses and impact on their global competitiveness. In such a setting a deindustrialisation of Europe becomes a very real possibility. More than a third of CEOs and Chairs (34%) plan to temporarily either pause or decrease their investments in existing businesses. 15% intend to do this permanently.
Green investments in Europe remain greenlit
European business leaders are holding firm on green energy transition investments.
In spite of the challenging landscape and a particularly pessimistic economic outlook, 91% of CEOs and Chairs intend to either increase their investment in green energy or make no changes to current investments plans in Europe. In fact, a sizable share of respondents (59%) plan to permanently increase their investments in green energy technologies, a portion larger than those planning to do this on a temporary basis (48%).
China remains an important counterpart for European business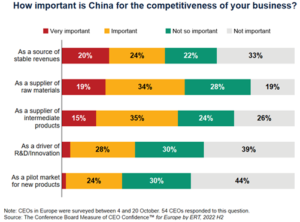 53% of CEOs and Chairs see China as an important supplier of raw materials for their businesses. As one of the largest consumer economies, 44% of respondents consider China to be either an important or very important source of stable revenues for their businesses. In addition, a third of European business leaders think of China as an important driver of R&D and innovation for their businesses, while more than a fourth (26%) view it as an important pilot market for their companies' new products.
Sara Murray, Managing Director, International, The Conference Board, added "CEOs across Europe see severe pressures. This survey tells us their confidence has been hit by high energy prices. Investment will take a hit but CEOs are still committed to Green investment across Europe."
About the survey
The Conference Board Measure of CEO Confidence™ for Europe by ERT polls CEOs and chairs of leading European industrial and technology companies members of the European Round Table for Industry (ERT). With a 98% response rate, this 10th edition of the semi-annual survey gauged sentiment among the Members of ERT on a range of topics, including economic outlook, inflation, and the impact of the war in Ukraine. CEOs and Chairs have been surveyed by The Conference Board in the United States on a quarterly basis since 1976. The survey is conducted twice a year in Europe.
To download the full survey results, click here.
The next survey for ERT will be conducted in Q2, 2023.
Nevertheless, ERT Members' commitment to Europe's green future is unwavering and our investment in the green transition is set to continue and even increase. Let's be realistic - the immediate period ahead of us will be very challenging for business and society. Competing regions are adapting quickly to the current context – the US Inflation Reduction Act is an example of this. At national and EU level, all efforts need to focus on envisioning Europe's green transition through the lens of our competitiveness on the world stage.
I'm not surprised by the findings of this latest survey. I have already seen for myself the impact of the energy crisis on Europe's energy-intensive industries and the ripple effect throughout the value chain. This is why ERT issued an Industrial Competitiveness Alert* calling for action already last month. We are still at real risk of a wave of deindustrialisation, as ongoing high energy costs undermine the global competitiveness of European production sites. The results of this latest survey indicate that this is a trend that will probably continue.